Craig and Barbara Weiner - United States Holocaust Memorial Museum - Washington, D.C.
The HOLOCAUST LEARNING AND EDUCATION FUND, INC. is a not for profit corporation that is incorporated under the laws of the State of Florida and has further been qualified as a tax exempt organization by the Internal Revenue Service. This organization was formed by Craig and Barbara Weiner in 2013 for the express purpose of broadening Holocaust education amongst America's students and to clearly illustrate to all young people how relevant the lessons to be learned from the Holocaust are to their lives today. During travels through Europe focusing on the history of the Holocaust, the Weiner family found that there was a growing need for the expansion of Holocaust education within American schools and thus embarked on a program to pursue and encourage a greater awareness of the atrocities that result from intolerance of others.

OUR MISSON :

The main objective of this organization is to aid students to learn not only ABOUT this most horrible period of our history - the Holocaust- and it's historical facts, but equally important to learn FROM the lessons of the Holocaust. It is crucial to show students, first hand, what happens from hate, and intolerance, and anti-Semitism, and racism and bigotry. We encourage this through the use of Holocaust education. Students must be encouraged to have the bravery and the courage to follow their moral conscience in STANDING UP when they witness injustice and see things happening that they absolutely know are wrong, including, but not limited to, bullying - an enormous and critically important problem amongst our nation's schools and campuses - and which is often as a result of racism, anti-Semitism, or bigotry. The CDC and other studies report that 160,000 students stay home from school each and every day out of fear of being bullied. Roughly 4,000 students commit suicide each year in our nation, while some 400,000 contemplate suicide. This is unacceptable in our country. Whether this bullying is due to racism, anti-Semitism, bigotry or intolerance, we strive to show our nation's youth what history has proven happens from these "cancers" that continue to permeate our society, and in this regard we teach young people how critically important it is for them to learn the lessons to be learned from the Holocaust, and to understand how relevant these lessons are in making their daily life choices.

1. The initial program conducted by the HOLOCAUST LEARNING AND EDUCATION FUND, INC. was to bring to the United States an historian/guide from the Buchenwald Concentration Camp Memorial in Weimar, Germany in order to conduct educational workshops in many of South and Central Florida's schools. Having obtained the approval and cooperation of the Buchenwald and Mittelbau-Dora Memorials Foundation in Germany, this educational interchange between Germany and the United States ran for the entire period of January 1, 2014 through the end of May, 2014 at which time the school year came to an end. This historian was booked at schools in four Florida counties, attending a different school day each day without exception, and reached some 7,000 students. The HOLOCAUST LEARNING AND EDUCATION FUND, INC. will be conducting continuing programs in Florida schools while encouraging the duplication of these efforts throughout the country.

2. Holocaust Reflection Contest : One such program is a State wide contest for students throughout Florida in which each middle and high school student throughout the State of Florida may submit an essay, a short form film documentary, or an artistic drawing that would depict their personal thoughts on the lessons they have learned through their own Holocaust Education and how these lessons impact their thinking in making their daily life choices. Each entrant receives a Certificate of Participation. The winners, as well as their teacher and a parent or guardian are awarded an all expenses paid trip to the United States Holocaust Memorial Museum in Washington, D.C. at which time they will also visit our other National Monuments and enjoy individual meetings with foreign as well as national dignitaries. This program is available to over 3000 Florida schools - both public and private. We are further proud to announce that this program is being conducted as a joint effort with NOVA SOUTHEASTERN UNIVERSITY, of Davie, Florida.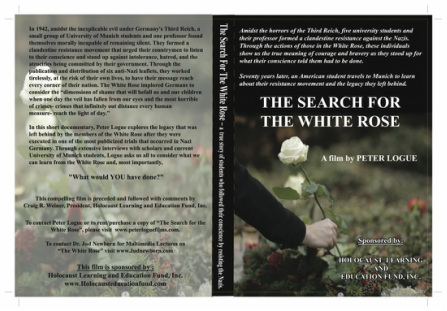 3. Film - "The Search for the White Rose" : The White Rose was a was a non-violent, clandestine resistance group in Nazi Germany consisting of students from the University of Munich and their philosophy professor. The group became known for an anonymous leaflet and graffiti campaign, lasting from June 1942 until February 1943, that called for active opposition to dictator Hitler's regime. This group of students, and their professor, had the bravery and courage to follow their moral conscience in Standing Up against what they knew was wrong. The White Rose serves as an excellent example for young people to follow when making their daily "Life Choices". Do we simply follow the crowd even though we know bad things are happening, or do we Stand Up- Resist- and do everything we can to Make Things Right ? The film is preceded and followed by comments from Craig R. Weiner illustrating how relevant the White Rose is to our lives today.


Read what the students at South Brunswick High School in Monmouth Junction, N.J. say about the film :

"....it made me realize, that they are also simply students. Their names, their lives, just like ours. There is nothing that can stop these beliefs and knowing this gives me the determination, conscience and heart to try to be as strong."
-Jessica

"The film made me think about the negative effects of being a bystander has. Although the White Rose group was unsuccessful at ending the Holocaust, they were willing to die knowing they did the right thing. Their death was meaningful and showed us that it is important to take a stand against injustice. This film made me pledge to be an up-stander and take action."
-Sheena

"It was great to see how students were able to build the courage to stand up during the Holocaust, to become an up-stander despite the consequences they might face. If more people were like these students during the time period, the Holocaust may have been prevented. This shows how much of a difference up-standers can make."
-Shreya

"Being an up-stander can be scary but it must have been even more scary to be an up-stander during the Holocaust when your life was at stake. That is what makes The White Rose so inspiring. They fought back even though it was dangerous. Even though they knew they could get caught, they continued doing what they believed was right."
-Kelsie

"For me, the most powerful part was to realize that the White Rose was just a group of students only a little bit older than me. I will always remember the line in the film "Find the bravery to act upon what you feel".
-Deanna

"These are the stories we need to hear. How to stand up and how amazing people who have are......This film makes me want to do something."
Nicole

"This film has a great message: It is important to stand up for what is right because it could be the deciding factor between life and death.
-Deena

" I hope this film becomes well-known so people understand what an effect a person can have. Do not be a bystander. The results can be deadly.
-Emma

Grade 6 School Project after seeing the film - Oak Hammocks Middle School- Port St. Lucie, Florida
---
The HOLOCAUST LEARNING AND EDUCATION FUND, INC. has produced over 3,000 DVD's of this film and, thanks to the generosity of our supporters, is providing them to schools at no charge. This is an outstanding resource for schools to use in their Holocaust and Social Studies classes.
--------------------------------------------------------------------------------------------------------------------

Board Appointment : The HOLOCAUST LEARNING AND EDUCATION FUND, INC. has announced the appointment of Maureen B. Carter to it's Board of Directors.

Mrs. Carter is employed by Palm Beach County Schools as the Planner for Holocaust and Social Studies for the school system and serves as the Palm Beach County School system's liaison to the Florida Commissioner of Education's Task Force on Holocaust Education. Her many years of experience in the field of Holocaust Education, as well as her numerous educational and professional achievements, including moderating and presenting at international educational conferences in various parts of the world make her an outstanding addition to the efforts to broaden, enhance and encourage greater Holocaust Education amongst our nation's youth.

---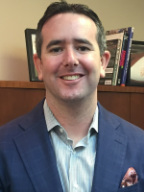 Board Appointment : The HOLOCAUST LEARNING AND EDUCATION FUND, INC. has announced the appointment of Joseph M. Jackson to it's Board of Directors.

Mr.Jackson is a senior partner at the accounting firm of Sharff, Wittmer, Kurtz, Jackson and Diaz in Coral Gables, Florida, the firm being one of the oldest accounting firms in South Florida having been established in 1953. He currently serves on various Boards and Committees including the Coral Gables Museum and is further involved with the Make a Wish Foundation of South Florida, as well as serving as an Ambassador at the Miami Children's Hospital. His deep commitment to education, children and community make him an outstanding addition to the organization's efforts to broaden, enhance and encourage greater Holocaust Education amongst our nation's youth.


The Mission : The goal of this organization is to see this form of education expanded through many other states, as well as Florida, in order to teach America's students how intolerance of others can lead to the destruction of our social fabric, while patience, respect and understanding of others will always result in a safer and better world for all to live in. As such, we encourage students to learn ABOUT the Holocaust, as well as to learn FROM the Holocaust so as to make better "life choices" in their daily lives.

---